What's the secret to glowing melanin? Eating vegan and ditching animal flesh, eggs, and dairy "products." Countless vegans of color out there are choosing health and consciousness over animal exploitation and death—proving that going vegan is for everyone.
Here are 29 black vegans who will absolutely inspire you:
Kimberly Elise
You may know Kimberly Elise from her roles in For Colored Girls, Diary of a Mad Black Woman, and The Manchurian Candidate. But did you know she's also a PETA friend and enthusiastic vegan who has a blog about vegan recipes, health, and beauty advice? To kick the new year off right, we teamed up with her to release a radio public service announcement that promotes healthy and humane meat-free meals with the message "Live the healthy life you deserve—go on, try it!"
"[A]s I learned more about the abuses to animals and the way meat was brought to the table … it was just another motivation and reason for me to live the lifestyle that felt true to my soul and my spirit."
Taraji P. Henson
From her lead role as Cookie Lyon on the hit show Empire to blockbuster hits like Hidden Figures, Taraji P. Henson is one of the most talented entertainers in the business. As with her professional work, she takes health seriously. She founded The Boris Lawrence Henson Foundation—an organization that aims to eliminate the stigma around African-Americans seeking mental health services—and went vegan to avoid cancer after a health scare.
"It took a doctor in Macon, Georgia, to say, 'If you don't change what you're doing, you're going to get stomach cancer.' I said, 'Say no more.' So I switched everything up out of necessity. I want to live. Thank God, because I feel so much better."
Ava DuVernay
You may know Ava DuVernay, one of PETA's Most Beautiful Vegan Celebrities of 2018, as the creative mind behind hit movies like Selma, 13th,  and A Wrinkle in Time. The barrier-breaking filmmaker has called going vegan a social justice issue for black people.
"My mom always said to treat others like you like to be treated. … [E]veryone wants to be … respected and treated in a loving way."
Kat Graham
Vampire Diaries star Kat Graham has worked with PETA to expose the filthy conditions that hens face on egg farms. She's a high-profile supporter of the Office of the United Nations High Commissioner for Refugees and a current member of GLADD (formerly the Gay & Lesbian Alliance Against Defamation). She's helped create schools and clean wells across Africa, and she received an Emmy nomination for her short film about the Black Lives Matter movement. We're honored to call such a kind, giving soul our friend.
"[C]ruelty and neglect are commonplace on egg farms all over the world. Please, please help these gentle birds and millions like them—it's easy. Don't eat eggs. They're a product of intense suffering. You can help stop the abuse by going vegan like me."
Persia White
Countless viewers went vegan after watching the shocking documentary Earthlings, and they can thank actor and singer Persia White, a co-producer of the film. Fun fact: White also portrayed Kat Graham's mom on The Vampire Diaries. She is an active member of numerous animal rights organizations and was given PETA's 2005 Humanitarian of the Year award. That's vegan black girl magic for you.
"Most people never see real animals dying nowadays, in modern society. People … wear and eat [animals] and contribute to such violence … every day … and the fact is, I think they should be shown."
Styles P
Whether he's solo or performing with the legendary LOX crew, hip-hop heads know Styles P as one of the greatest rappers ever. In recent years, Holiday Styles has also pushed for healthier eating habits in the black community. He now runs numerous juice bars in New York with fellow LOX member Jadakiss.
"A plant-based diet kinda makes your soul lighter. I had a newfound respect for all life."
Grey
Grey is a refreshing beacon in hip-hop and the animal rights movement. (Y'all remember that fire "Vegan Thanksgiving" rap he did that you made all your relatives watch?) After his partner, PETA campaigner and activist Nikki Ford, persuaded him to go vegan, he says his whole life changed.
"Once I started to understand what's in the food that we eat and the effects it can have on the body, in addition to the obvious animal cruelty behind it—it was enough for me to start a new lifestyle."
Erykah Badu
Erykah Badu is a soulful icon, longtime vegan, and advocate for healthy living in the black community. In past interviews, she's stated that her nutritious, vegan lifestyle helps keep her centered.
"The lifestyle that vegetarians lead automatically draws people's attention to the vitality of the person. My vitality speaks for itself."
RZA
The Wu-Tang Clan is for the children, and as the legendary RZA will let you know, living vegan is vital for a better tomorrow. The rapper, producer, and filmmaker (is there anything he can't do?) considers animals, like his fellow humans, to be friends—and he urges everyone to go vegan.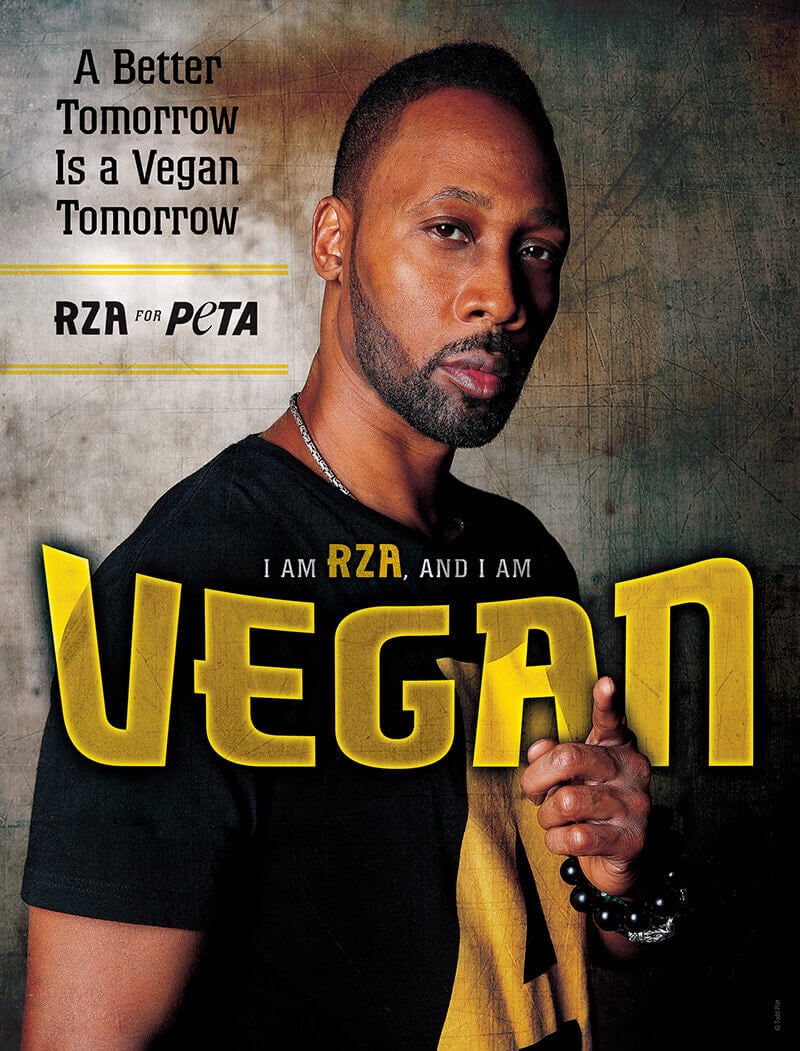 "I don't need a dead animal or dead piece of flesh to go into my live body. There's … nothing on this planet that doesn't want to live."
Dawn Richard
Singer-songwriter Dawn Richard grew up on crawfish and gumbo, but after her father was diagnosed with cancer, she decided to go vegan "cold turkey"—and hasn't looked back.
"It's more than just food, it's a lifestyle. … [M]y whole life has changed. I get up earlier, I want to exercise, I feel better, my skin feels better. … People [forget] that it starts with the animals, and we have misused them as if they are not like us."
Will.i.am
The multitalented musician Will.i.am first went vegan to improve his health. Since then, he's spoken out regarding the immoral killing of animals for their flesh and corruption in the meat industry. Fans can hear his passion for living vegan in his lyrics. As he raps on "VIBRATIONS pt. 1 pt. 2," "You eat the yellowtail—I'ma eat the plant-based. I ain't chewing on no food with two eyes and a face."
"For many years I would go to sleep and wake up tired. That's because my body was processing God knows what type of crazy, wicked sh*t .… [T]here's a force, a dark force, out there that is doing a very good job of keeping us all sick."
Jermaine Dupri
Music mogul Jermaine Dupri is the genius behind some of the world's greatest hip-hop and R&B albums ever. (TLC's CrazySexyCool? You're welcome.) He told PETA that going vegan over a decade ago improved his energy levels and left him feeling on point.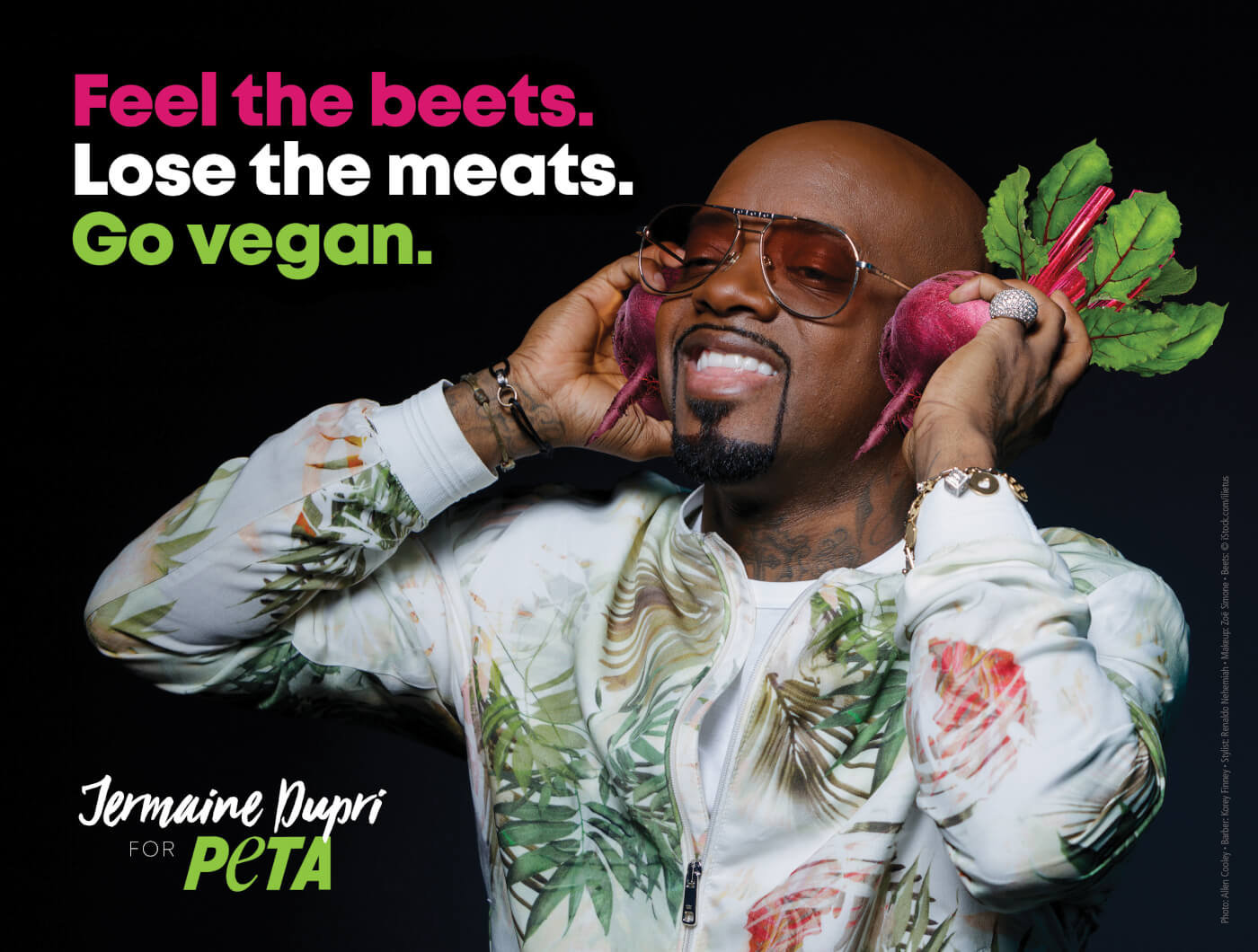 "[T]he vegan lifestyle, to me, is the best lifestyle. And I want to get the world into this."
Mýa
Singer-songwriter Mýa has starred in several PETA campaigns about living vegan and wearing animal-friendly fashion. She's even published a free online guide to going vegan.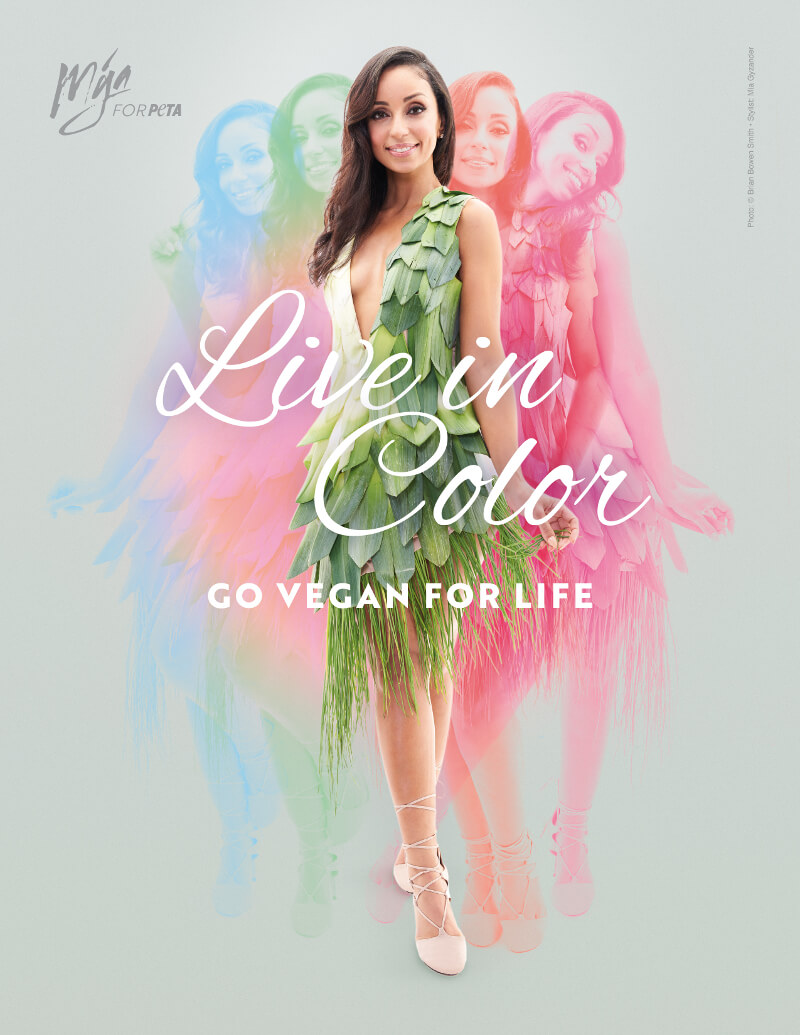 "I would definitely recommend [a vegan lifestyle], in every possible way, if you want to see a huge difference in your life. Give vegan a try—it'll grow on you."
Babette Davis
Co-owner of the restaurant Stuff I Eat in Inglewood, California, world-class chef Babette Davis is an energetic inspiration who proves that true soul food can be healthy and completely vegan.
"This journey is not just about myself … it's about all of us."
Kirsten Ussery-Boyd and Erika Boyd
Kirsten and Erika co-founded Detroit Vegan Soul, a soul food restaurant that's unapologetically vegan in a predominantly African-American and "meat and potatoes" city. The duo serves up vegan dishes familiar to the black community, chipping away at the misconception that vegan food is intimidating or out of reach.
"For health, environmental, and ethical reasons, it's imperative that we lose the baggage, drop the stereotypes, and begin to change our attitudes about what constitutes 'good' food."
Tracye McQuirter
Inspired to go vegan some 30 years ago by PETA friend and iconic activist the late Dick Gregory, Tracye McQuirter has become a best-selling author (By Any Greens Necessary is probably the most dope title a vegan of color could ever name a book), public health nutritionist, activist, speaker, and vegan trailblazer. She founded the Black Vegetarian Society of New York, works on school-based initiatives to reverse childhood obesity, and has served as a nutrition consultant for the Black Women's Health Imperative. To Tracye, being vegan is all about practicing love, freedom, and joy—not deprivation.
"[A]s a public health nutritionist, I can tell you that we've known for decades that plant foods are the healthiest foods to eat. The research has been clear and consistent for more than 50 years. Plant foods can prevent and reverse heart disease, our number one killer, as well as prevent and often reverse our other leading causes of death and disability, including stroke, diabetes, certain cancers, and obesity."
Cory Booker
In 2013, Cory Booker made history by becoming New Jersey's first black senator. He's known to promote his ethical vegan politics and even complained to President Barack Obama when Number 44 failed to offer vegan options at a cocktail party. He's sponsored legislation to save animals' lives, including bills that would reduce the number of primates used in wasteful experiments. And yes, the man is F-I-N-E—we've certainly mentioned that before.
"I want to try to live my own values as consciously and purposefully as I can. … Being vegan for me is a cleaner way of not participating in practices that don't align with my values."
Dexter Scott King
Son of Coretta Scott King and Dr. Martin Luther King Jr., Dexter Scott King's legacy as an activist and author stands on its own. Many may not know that King has been vegan since the 1980s.
"If you're violent to yourself by putting things into your body that violate its spirit, it will be difficult not to perpetuate that [violence] onto someone else."
Angela Davis
Best known as a longtime human rights activist, former Black Panther Angela Davis is also a committed vegan. She feels that animal liberation is the natural progression of empathy and urges her fellow activists to understand that all forms of exploitation and oppression—no matter the individual involved—are wrong.
"[S]entient beings … endure pain and torture as they are transformed into food for profit, food that generates disease in humans whose poverty compels them to rely on McDonald's and KFC for nourishment."
Aph Ko
Creator of Black Vegans Rock, a popular platform for vegans of color from all over the world to share their stories, Aph Ko has arguably done more to give black vegans a voice than any other media outlet today. Her latest co-authored book—Aphro-ism: Essays on Pop Culture, Feminism, and Black Veganism From Two Sisters—has been called "a triumph for anti-racist and animal rights activism."
"As I always say, the only connection between black oppression and animal oppression is that both groups were smuggled onto a racial hierarchy that the dominant class created to naturalize their own superiority and the inferiority of everyone else."
Colin Kaepernick
Perhaps the most popular protester of the 21st century, former NFL quarterback Colin Kaepernick began kneeling during the national anthem in 2016 to protest the police violence that systematically targets people of color. Given his powerful opposition to oppression and violence, it's no surprise that he lives a vegan life.
Always ready 💪🏾 #NotBadForAVegan pic.twitter.com/TLfbsUUeIb

— Colin Kaepernick (@Kaepernick7) July 3, 2018
"The Colin Kaepernick Foundation's  purpose is to 'fight oppression of all kinds globally through education and social activism.'"
Kyrie Irving
We can't deny that Kyrie Irving's "plant-based" Nike commercial was anything other than groundbreaking. He reportedly went vegan after watching the Netflix documentary What the Health. He also states that ditching animal parts improved his ball game.
"I've been on more of a plant-based diet, getting away from all the animals and all that .… So my energy is up, [and] my body feels amazing. Just understanding what the diet is like for me and what's beneficial for me for having the highest energy out here and being able to sustain it at a very high level."
John Salley
Former NBA player John Salley went vegan nearly 30 years ago. PETA had the pleasure of collaborating with him to promote the health benefits of living vegan—something he's absolutely passionate about. He's worked alongside the Physicians Committee for Responsible Medicine, an organization of more than 12,000 doctors, to ask Congress to increase vegetarian meal options in public schools. When he's not on the grind improving the health of others, Salley can be found running The Vegan Vine, a sustainable vegan wine company that he founded.
"I found out that most NBA players die of heart attack[s] or heart complications. You can't have all that animal fat in your veins."
Carl Lewis
Hands down, one of history's most talked-about Olympians—vegan or otherwise—is Carl Lewis. In his track career, he won 10 medals—nine of them gold. Only four other Olympic athletes have won that many gold medals.
"My best year of track competition was the first year I ate a vegan diet."
Malcolm Jenkins
Like so many others, Philadelphia Eagles safety Malcolm Jenkins didn't ever plan on going vegan, but he couldn't deny the increased speed, heightened strength, and shortened recovery time that came along with his new lifestyle. He credits the documentary What the Health as his reason for going vegan but doesn't want to be considered a "health nut." He just knows how well the body does without meat and dairy "products."
"I didn't even tell anybody about it for a long while until everybody started realizing my plates didn't have meat on them. They were clowning me for a little bit, until I was the old guy still running past everybody."
Kendrick Farris
Kendrick Farris looks as though he's eaten every person who ever asked about his protein sources. Of course, he hasn't, as that wouldn't be very vegan of him. He was the only American male weightlifter to qualify for the Rio Olympics in 2016. During the U.S. Olympic Team Trials that year, he broke American records by lifting a total of 831 pounds in the clean and jerk.
"I don't agree with the way the animals are mass-slaughtered. So that's one thing that kind of got me looking at what they call a vegan diet."
Javale McGee
Los Angeles Lakers center Javale McGee wants y'all to know that being vegan is easy, especially once you experience the benefits. He lost 20 pounds after going vegan and became more agile on the court, thanks to his compassionate lifestyle.
"Once you find substitutes for things you like, it's pretty manageable from there."
Jahlil Okafor
PETA friend and New Orleans Pelicans center Jahlil Okafor went vegan in the hope of reducing the painful inflammation in his knees. Now, he hopes to promote vegan eating among his teammates.
"I cut out dairy, watched a few documentaries. Then I cut out steak, cut out chicken, and gradually started cutting out [every] animal-based product, and now I'm just all-out vegan."
***
Note: PETA supports animal rights, opposes all forms of animal exploitation, and educates the public on those issues. It does not directly or indirectly participate or intervene in any political campaign on behalf of or in opposition to any candidate for public office or any political party.